Annual Community Volunteer Day – We Need YOU!
Saturday, April 21, 2018, 9:00 am – 12:00 pm
Meet in Stonebriar Park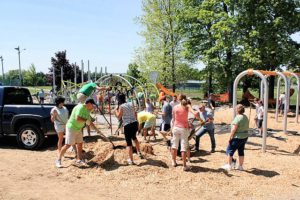 The District has the wonderful opportunity to partner again this year with a local church to work together on community projects using volunteer labor. Last year's Volunteer Day was a wonderful success! Some of the wish list projects for this year include moving 80 yards of playground fiber to refresh the playground area in Stonebriar Park, staining split rail fencing, and litter cleanup. We would love to have as many residents as possible participate. There will be a registration table in Stonebriar Park on Saturday, April 21, starting at 9:00 a.m. where jobs will be assigned.
**Please note that the playground fiber will be delivered Friday near Stonebriar Park. Please use extra caution until the fiber material has been moved to the playground.**
If you can spare some time, your help will be appreciated. Please bring gloves, shovels and wheelbarrows as that will make the work go more quickly. The District will provide buckets and brushes for fence staining.

If you have any questions, please contact: Chaney Hicks, Rolling Hills CSD General Manager at (916) 235-8671 or at [email protected]
---
RHCSD Planning For Park Facilities and Improvements: Berkshire Park
At its April meeting, the Board will further discuss the draft plan for development of Berkshire Park. A second revised version of the park plan will be posted soon.
---