February 18, 2020 RHCSD Board Meeting Agenda
Below is the link to the Agenda for the upcoming RHCSD Board Meeting.
---
Voting Has Changed In El Dorado County
The Elections Department has asked that we share the information below.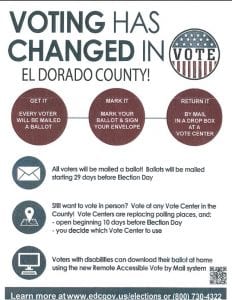 ---
El Dorado Hills Community Services District Implements Non-Resident Fee for Participation by Residents Residing Outside of its Boundaries in Programs and Recreational Activities
Several months ago the El Dorado Hills CSD Board of Directors adopted and re-introduced the non-resident fee. That fee is an additional 10% non-resident fee charged to any household that chooses to utilize the El Dorado Hills Community Services District's services or facilities, and is outside of the District's Boundaries.
The Rolling Hills CSD, which includes in its boundaries the neighborhoods of Springfield Meadows, Shadow Hills, Stonebriar, and Sierramonte, provides neighborhood parks and other services for its residents. It is a separate and distinct special district from the El Dorado Hills CSD. The Rolling Hills CSD is not located within the jurisdiction of the El Dorado Hills CSD.  This is often confusing because residents in Rolling Hills CSD also have the postal zip code for El Dorado Hills. However, the service areas for special districts do not necessarily follow postal zip codes. All households within the El Dorado Hills CSD's jurisdiction contribute to the ongoing maintenance and upkeep of the parks and facilities located in that district through their property taxes.  The residents of the Rolling Hills CSD do not contribute to the El Dorado Hills CSD.  Such non-resident fee programs are not uncommon, and are an effort to address impacts onto the services and facilities provided by the El Dorado Hills CSD used by non-residents which the residents of EDH CSD are funding.
If you have additional questions about the El Dorado Hills CSD fees, please contact Mike Cottrell, Director of Recreation for the El Dorado Hills CSD at 916-614-3215.
---
Early Stages of Review: Idea under Consideration – Annexation of Rolling Hills CSD into El Dorado Hills CSD and Dissolution of the District
The Board of Directors will begin exploring possible annexation of the Rolling Hills CSD into the El Dorado Hills CSD, a separate and distinct community services district also located in El Dorado Hills. Unsolicited general information was presented to the Board of Directors about this concept. The Board determined it is in the best interests of the District to investigate the possibility of annexation and examine the pros and cons associated with the idea.  The District is interested in the community's opinions and welcomes feedback from its residents. The matter is on the Agenda for the April regular board meeting for a preliminary discussion.  Please watch the future Agendas for more information on this topic.
---