Special Events
Community Volunteer Day
Saturday, April 22, 2017 9:00 am – 12:00 pm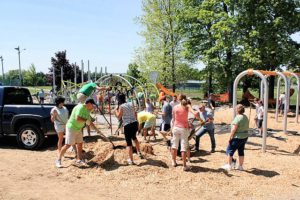 The District has the wonderful opportunity to partner with a local church to work together on community projects using volunteer labor. Some of the wish list projects include moving 80 yards of playground fiber into the playground area, replacing/repairing baseball backstop, staining split rail fencing, planting trees and garbage cleanup. We would love to have as many residents as possible participate. There will be a table in Stonebriar Park for registration Saturday, April 22, starting at 9:00 a.m. and where jobs will be distributed.
**Please note that the playground fiber will be delivered Friday near Stonebriar Park. Please use extra caution until the fiber material has been moved to the playground.**
If you can spare some time, your help will be appreciated. Please bring gloves and if you have shovels/wheelbarrows that will make the work go much quicker. What a great way to spend Earth Day!
If you have any questions, please contact: Chaney Hicks, Rolling Hills CSD, General Manager at (916) 235-8671 or at [email protected].
---